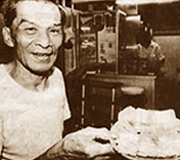 The year was 1926. Clutching a black wooden suitcase, 15-year-old Loi Ah Koon scrambled frantically on board an old Chinese junk poised to set sail from Hainan Island to Singapore. After what seemed like an endless sojourn in the South China Sea, Ah Koon finally tumbled out onto Singapore soil, uncertainties swirling around in his head. Knowing neither kith nor kin, he naturally gravitated towards the local Hainanese community. It was there that he was introduced to work as an assistant in a Hainanese coffeestall.
Quick and nimble of mind, Ah Koon picked up the tricks of the trade fast. Before long, he could hear the happy jingling of his meagre earnings in his khaki shorts' pockets. That did more than delight him. It aroused the entrepreneurial spirit in him. He partnered 2 fellow Chinese immigrants to start their own coffeestall business at Telok Ayer Basin. However, the partners later decided to venture elsewhere on their own. Ah Koon was then left to fend for himself.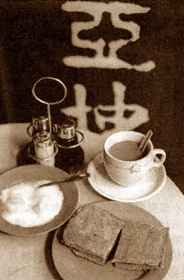 A determined young man, Ah Koon decided that, sans partners, it was still business as usual. Coffee, tea, egg and toast - he served them all to one and all. The coolies, merchants, money-lenders, police inspectors, boat operators all sprang to life slurping Ah Koon's piping hot coffee and munching on his charcoal-grilled toast.
Ah Koon got married during one of his visits back home to China. In 1936, Ah Koon's wife joined him in Singapore. She worked alongside her husband, perfecting her skill of churning out homemade kaya (a local spread of egg and coconut) to go with their toast. Ever resourceful, Ah Koon also began roasting his own coffee. He bought coffee beans, added 'Planta' margarine and sugar and roasted these over firewood at the back of this stall.
To Ah Koon, service involved sacrifices. Although home was a cubicle at 15-B Cross Street which was just across the road, he chose to spend his nights sleeping on the hard wooden countertop at the stall in order to be on time to serve his first customers at 5 am. When these customers barked their orders, he would, with a chalk in hand, scribble their preferences furiously on the same countertop he had slept on. Irate customers never floored him. With a serene smile and a resigned shrug, he kept at his chores. Ah Koon served more than food for the body. He dished out kindness as well. To those in want, he freely gave. To those who read, he circulated the dailies. To those who were regulars, he extended credit.
After operating for more than 15 years at Telok Ayer Basin, Ah Koon relocated his business across the street to Lau Pa Sat. The stall was then simply called Ya Kun Coffeestall, the name 'Ya Kun' being the hanyu pinyin equivalent of 'Ah Koon'. The business remained in Lau Pa Sat for another 15 years during which it clinched 'The Most Courteous Stall in Lau Pa Sat' award. In 1984, it moved back across the street to Telok Ayer Transit Food Market to make way for the revamp at Lau Pa Sat. Finally in 1998, Ya Kun Kaya Toast Coffeestall settled down at its present site at Far East Square and is now completely managed by his children.
JENNIFER LOI 2002